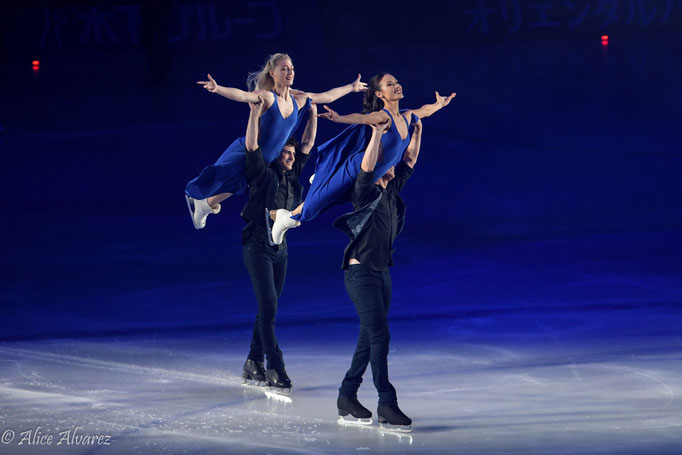 Piper Gilles & Paul Poirier, Madison Chock & Evan Bates
---
A few days after the World Championships in Saitama, the Japanese skaters and a few international stars settled in Osaka to start the Stars on Ice 2023 tour. The show was sold out. The Japanese audience is always very fond of figure skating, and the perspective of seeing Yuzuru Hanyu, the two-time Olympic medalist, greatly contributed to the enthusiasm. A draw for the sale of tickets had been set up, as is usual for this type of event. A spectator confessed to me having participated 31 times in this lottery for several years before finally succeeding.
The Stars on Ice tour is an opportunity to see the exhibition programs of the best skaters in the world but also to discover exclusive group acts choreographed by Jeffrey Buttle, 2008 world champion and 2006 Olympic Games bronze medalist. Mathieu Caron, skaters' favorite Canadian costume designer, designed the costumes.
We know that Stars on Ice always has an eye for detail. For example, the skaters are dressed identically during group acts without any exceptions. In previous years, Madison Hubbell, who is used to skating with beige boots, had been forced to opt for white boots like her comrades for the show's needs!
But back to Osaka… For the opening act, Yuzuru Hanyu was the first skater to appear to the immense pleasure of the audience. Loena Hendrickx, Jason Brown, Satoko Miyahara, and Koshiro Shimada took over, before being joined by Madison Chock & Evan Bates, Piper Gilles & Paul Poirier, and Alexa Knierim & Brandon Frazier.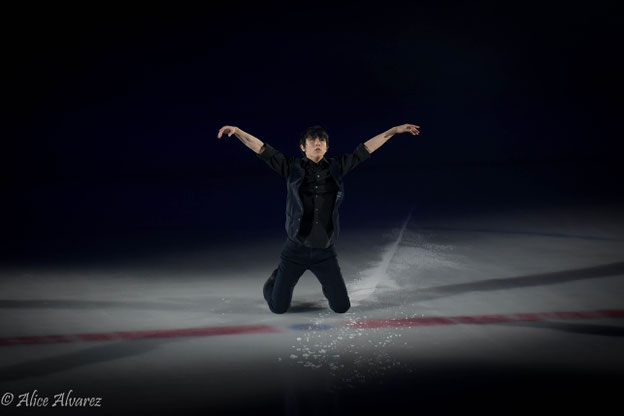 For the individual programs, Piper Gilles and Paul Poirier showed us a country theme pushed to the maximum, as always with them. Piper's cowhide suit could not leave anyone indifferent. Satoko Miyahara and Jason Brown joined them briefly to dance with them on "Thank God, I'm A Country Boy."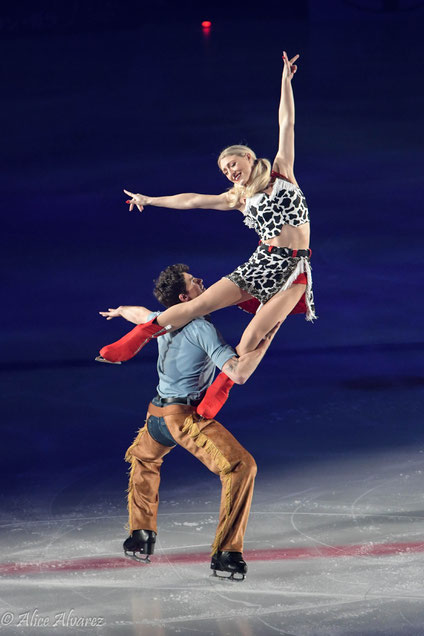 Piper Gilles & Paul Poirier
Satoko Miyahara, who retired from competitive figure skating in 2022, skated to "Jenny of Oldstones" from the Game of Thrones series. This modern theme suited her very well, and Satoko appeared in excellent shape (double Axel and triple Salchow).
Sota Yamamoto (on Poeta), Hana Yoshida (on Star Wars), and Mai Mihara (on Sakura, particularly fitting, as the Japanese cherry trees are in full bloom at the end of March) also took part in the first half of the show.
Two-time world champion Kaori Sakamoto, accompanied by Mao Shimada, Ilia Malinin, and Kazuki Tomono, appeared on the ice during the last program of the first part to keep the public waiting. The side-by-side jumps were very popular with the public, as they were performed by skaters accustomed to skating alone.
The second part was opened by five James Bonds (Evan Bates, Jason Brown, Brandon Frazier, Paul Poirier, and Koshiro Shimada), quickly joined by five talented skaters (Loena Hendrickx, Madison Chock, Alexa Knierim, Piper Gilles, and Satoko Miyahara). The usual pairs reformed for a few lifts and Twist, before giving way to a new duo, Loena and Satoko.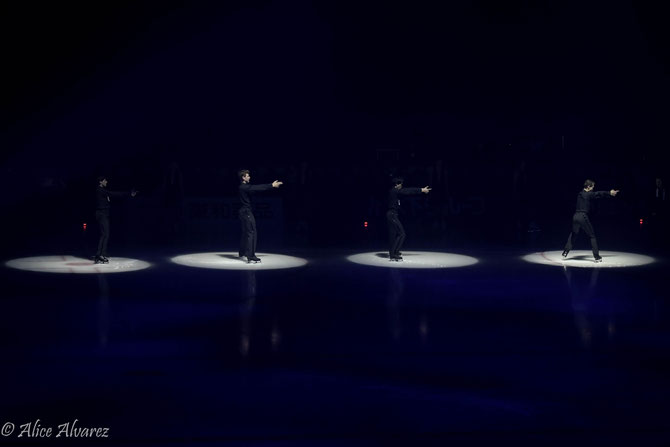 Mao Shimada showed her program "I want candy," helped by Koshiro Shimada for a cartwheel. Ilia Malinin lived up to his nickname "QuadGod": quadruple Lutz, quadruple toe loop, and triple Axel. We have rarely seen such technical content in an exhibition program.
After almost two hours of performance, world champions Shoma Uno, Riku Miura, and Ryuichi Kihara finally appeared on the ice. Shoma skated to his 2019-2020 short program, Great Spirit, which we had seen far too little. Riku and Ryuchi then skated to "I Lived."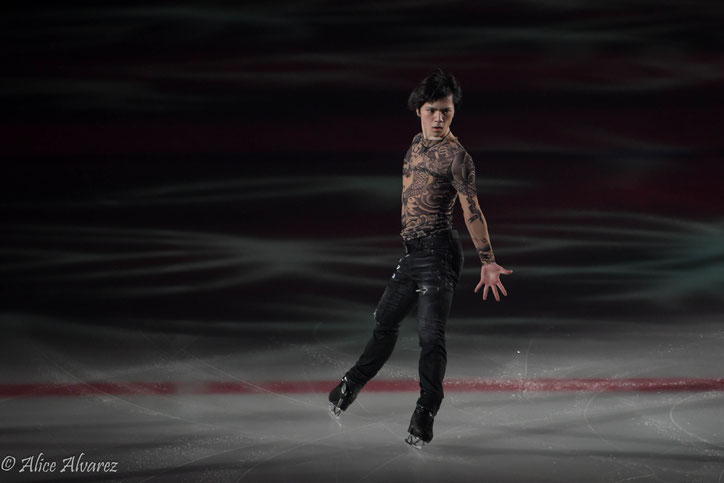 The lights turned green when Kaori Sakamoto skated to her Matrix free program. This choreography didn't win her the most medals, but it remains one of the favorites of the public and Kaori(x) herself.
To conclude the two-hour show, the ice rink went wild for one skater, whom the public had been waiting for since the start and only saw a brief moment at the gala's opening: Yuzuru Hanyu. His technical content was impressive and worthy of his competitive years: quadruple toe loop / triple toe loop and two triple Axels in combination. He skated to his free program on the Phantom of the Opera.
Yuzuru, Shoma, Kaori, Riku and Ryuichi then talked a bit with the journalists who attended the show:
Shoma: "My condition isn't good, but since it was an ice show, I didn't include difficult jumps. I am enjoying performing with Yuzuru again. It shows me what kind of figure skater I want to be from now on. We are going to skate together for a while, so I'm going to watch him a bit. Originally, Great Spirit was an exhibition program, then I used it as a short program and now I'm using it again for shows. I don't usually go back to old programs, but this program has a deep meaning for me."
Kaori: "I skated on my old free program Matrix, I wanted to please the audience. I really enjoyed it and the audience was more fired up than I could have imagined. After my free skate at the World Championship, I slept a lot! I am almost fully recharged now, but after Stars On Ice, I will compete in the World Team Trophy. I want to show my programs to the Stars on Ice audience, but I will also get some rest between shows so I can go to the World Team Trophy in a good shape."
Ryuichi & Riku: "It's our fourth season together but we did not have the opportunity to perform at Stars On Ice before (due to COVID19). Our physical condition is not as good as it was in Saitama, but we will get some rest."
Yuzuru: "I skated to this program during the 2014-2015 season, but I suffered from injuries and there was an incident at the Cup of China, so for a long time I thought I was not going to skate this program anymore. I had some kind of closure with this program. However, after my show at the Tokyo Dome, and performing this program for the first time since that incident, I wanted to skate to it again to present it with more physical strength."
---
Solène MATHIEU - Skate Info Glace
A warm thank you to Maria-Laura Mitsuoka for the Japanese/English translation